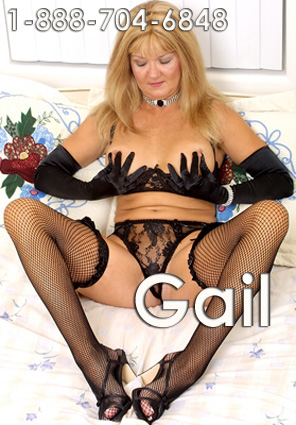 Do you have a freaky fetish and need to sexually express your fetish desires with a mature woman who understands your needs? Fetish Phone Sex with Mature Gail will be your ultimate sexual fetish experience. I am a fetishist myself. I have more than several fetishes that I get into. And if you don't see it here on my page, it doesn't mean I'm not into it, it just means I ran out of space to talk about it! I love playing the Giantess and destroying entire towns and cities as well as chasing and trampling you or smothering you between my breasts. I also like to shrink men with a special potion and turn them into doll sized weaklings that I can control. I will carry you around in my purse and make you sleep in one of my high heels with a pair of my panties as a coverlet. I can't really hear you talk any more, you are so small, it sounds like you're squeaking like a mouse. Whatever you say doesn't matter anyway, I'm in control now.
Do you crave sniffing my sweaty ass, armpits, panties, shoes, or whatever? I love men who want to sniff everything I have to offer and I mean everything. No limits! I also have a raging balloon fetish and love to blow up colorful balloons, play with them using static electricity to make them stick to things and to finally pop them. Sometimes I cry when I pop them. It's an emotional moment. And, well, I have a shoe fetish. What woman doesn't want to have a huge closet full of shoes? Do you have a shoe or clothes fetish? Leather, latex, and pvc are so sexy and erotic and I love indulging all your fetish fantasies.
Whatever your fetish phone sex fantasy is, only a mature woman like myself has the experience to make it cum true. Call Gail at 1-888-704-6848 and be ready to tell me what your fetish is!
AIM TabooGail.Granny