Hi boys! I'm Aaliyah, and I love fun fetishes! One of my favorites is smoking fetish phone sex! I like Newports but am pretty partial to cigars as well! I want to dress up for you. I love corsets and stockings, sexy heels or high boots–and when I'm feeling REALLY flirty, I love a good red or black feather boa! (Besides, there are OTHER fun things you can do with boas you know) I want you to come home after work and see me sitting on your porch rail dressed like that, tendrils of sexy smoke wrapping around my face and body and I exhale so I can pull you in and whisper in your ear JUST what I want to do with you in the bedroom! And skip the shower! I don't care if you ARE dirty—I can't wait!!! I'm a bit of a switch, although most of the time I'm definitely the submissive one, but sometimes…(ESPECIALLY if you give me a boa or red lipstick), my inner vixen comes to play and takes over! And trust me, you'll KNOW when that's what's going down!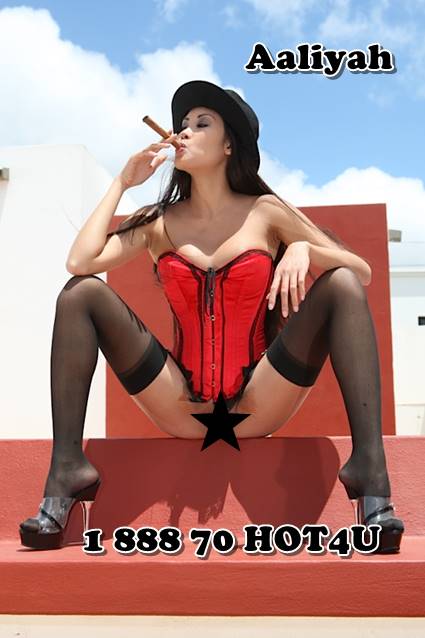 I will shove you on the bed, slowly crawl on top of you while still taking drags, and pull off your pants and underwear. I want to breathe smoke ALL AROUND YOUR COCK. I want it to dance around your dick like a stripper on a pole in a smoky bar. I want your cock to feel the HEAT of my breath. I want to watch your balls PULSE as they crave more. But instead of giving it the warm, wet entrance of my mouth, I shimmy over it, being sure to sliiiiiiide my crotch over it so your cock can feel my silky wet panties.
Once at your face, I take another long drag and breathe out, letting you slowly inhale me, taste me, know me—-just like my pussy is about to inhale YOU and nuzzle it deep inside me. Your mouth moves towards mine as you drink in my smoke, sucking on my lower lip, biting it gently, and working your tongue around my teeth and tongue. And THAT is the beginning of our smoking fetish phone sex! Call me, and let's finish the story! 1-888-70-HOT4U. Ask for your Asian vixen, Aaliyah!