I'm Gail, a mature and very sexually experienced woman. Turn over your jerk off habits to me on our guided masturbation phone sex call. I know just how to stroke your cock for your maximum pleasure. Not just the cock either. I bet your balls like extra attention too. And your ass? I hope you're into some sort of ass play. Pleasure, this is all about your pleasure. Stroking your cock for me. Listening to me guide your hands and your mind, teasing and pleasing until every pleasure center is on fire.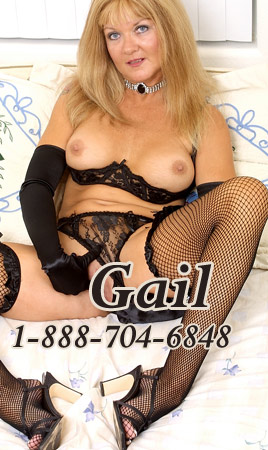 Tease and deny. Stroke stroke stop. JOI phone sex. Let me give you all the jerk off instructions to make your cock throb and dance. Your balls should be full, tight, and aching. Is your cock leaking pre-cum? Slide your finger over the tip and taste it. That's right, I'm into cum eating, and CEI phone sex too. You fantasize about eating your cum, being made to eat it, but it seems that you always chicken out. While I can't make you do it over the phone, I do have a few tricks up my sleeve that might help. We wouldn't want to waste it now, would we?
There are a few things you can do to make our call the best ever. If you're really looking for guided masturbation and especially teasing and denial, please be sure to allow enough time. Either in one session or a few short sessions broken up over a day or 2. The more you stroke and tease and the longer you wait, the better your orgasm is going to be. If you have toys, vibrator, string, cock ring, dildo, lube, etc bring them along. I'm creative and kinky all in the name of ramping your pleasure up even more.
For guided masturbation phone sex of any kind, call Gail 1-888-704-6848
AIM TabooGail.Granny