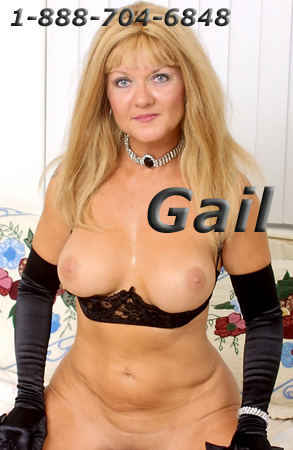 Hello everyone! I'm Gail and I'm your taboo granny phone sex dream cum true. When it comes to sex and especially phone sex, it's anything goes with me. I am at a point in my life where I just don't care what anyone thinks of me and let me tell you how freeing that really is. When I hit on the young guys who pass thru my town looking for a good time, I'm right there at the front taking my pick of the crop every weekend. Like them, I am not looking for a relationship, been there done that and never again. I've been married twice, divorced once, widowed the last time 8 years ago.
I love to roleplay all the kinky and taboo things you think about. I will be your taboo granny, the hot GILF next door, your teacher, your wife's sister or mom, or just the hot old lady slut who gives it up to anyone who approaches. I'm not exclusive to cock either, I love pussy just as much. Close your eyes and think about the perverted things that make your cock hard and then call and share them with me. No judgements at all, at my age I am pretty sure I have heard it all, and done most of them. There are so many dirty things I have done in the past several years, I just know you would be shocked to hear about it. These are the things I only share with you on the phone, it's safer that way!
I do lean toward the Dominant side but I am a sucker for a huge, fat dick and a man who knows just how to get what he wants, even if what he wants is me on my knees begging for his young college cock. It's all about pleasure for me and everything I do in my life is all about feeling good and spreading my sexual energy all around. When you tire of the giggly young girls who think sex is just about spreading their legs, give me a call and let me share my experience and taboo fantasies with you.
For taboo phone sex, call Gail at 1-888-704-6848
AIM TabooGail.Granny
Yahoo – TabooGrannyGail