Hey ya'll! I am Heaven. I am a fiery, redheaded saint, sent right from the heart of Texas. Are you wondering what this feisty, red haired Texan has in store for you? You should be! Darlin' I can say you don't have a clue what I am capable of! I do everything bigger and better! I have the firm belief that redheads are fire hot in bed. I certainly fit that description. Have you seen the curves on my body? They are quite enticing, now aren't they? If you get me in the right mood during our anything goes phone sex session, I may be willing to welcome you into my little slice of paradise. My paradise is where all of your kinkiest and naughtiest fantasies will come to pass, if you're lucky.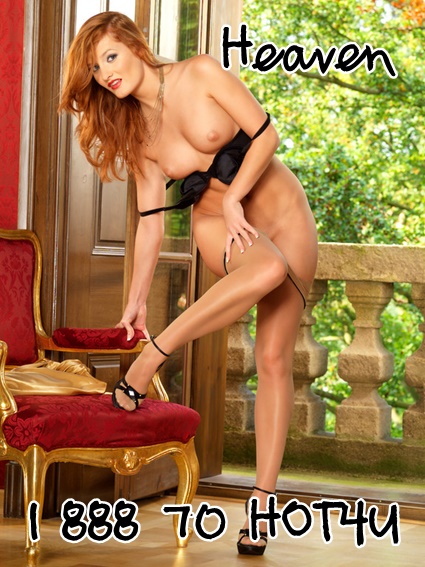 Sugar, I can be your sensual daydream, the girl next door, or your naughty siren. My curves are my siren's song, lulling you into thinking that I am a sweet, innocent plaything. Before long, Sugar, you will find that I'm not so innocent, and that you have become MY plaything during our anything goes phone sex session. It's oh so easy, darlin'. I know you are horny, and so am I. I do whatever it takes to get your fires burning. I am sweet, yet seductive, with a twist of sultry-it doesn't take much. Why do you think it was so easy to cast my husband under my spell? It was so natural for him to confide in me, to spoil me in a million different ways. By the time he realized what was happening it was all too late. He had fallen so hard for me, and couldn't let go. During our anything goes phone sex session, will it be too late for you?
Call 1 888 70 HOT4U and ask for Heaven to find out!
AIM: Heaven_sent_4u
Yahoo: heaven_sent_4you